Reclaim what's real when you visit our beautiful region. Escape the run-of-the-mill tourist haunts and enjoy a genuine connection to local people and culture.
EULO
Visit the 'kingdom' of the Eulo Queen.  Discover an enterprising community, home to local producers, opal art and mud baths.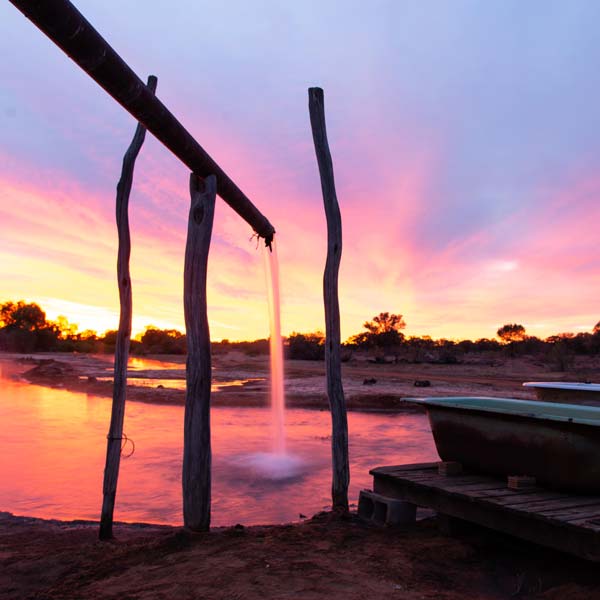 CUNNAMULLA
You'll know you've arrived when you spot the Cunnamulla Fella. This larger-than-life statue is a tribute to the Aussie larrikin stockman.
WYANDRA
Wyandra is a must-see town. If you have an interest in architecture, there are some great old buildings to discover.
Let us help you plan your visit to our welcoming communities with a great selection of accommodation, things to do, events and itineraries.
GETTING HERE
Getting here is a breeze.  You can travel by road, rail, bus or flight to our beautiful destination.  Enjoy the journey and take a road trip.
ACCOMMODATION
Need a room or the perfect campsite?  We've even a few outback stations for that authentic Aussie experience.
THINGS TO DO
Yes, we have plenty of wide, open spaces to enjoy, but we also have plenty of things to see and do. Make your holiday memorable.
Explore our natural attractions and experiences.  Discover our colourful stories and heritage trails. Extend your visit on one of our self-drive itineraries.
NATURAL BEAUTY
Spend some time exploring nearby Currawinya National Park, discover century-old mud springs and mineral-rich mud baths.
HERITAGE TRAILS
Discover our colourful stories for yourself on the Paroo Pioneer Pathways around Cunnamulla, Eulo and Wyandra.
Browse upcoming events and activities happening in region.  Major events, free events, community events and more.
EVENT CALENDAR
Find the perfect event for you while in town, from festivals, quirky community events, race days and more.  Keep up to date with our event calendar.
CUNNAMULLA FELLA ROUNDUP
Cowboys, bull riders and stockmen will converge on our famous town, putting on a jam-packed line up of action and entertainment.